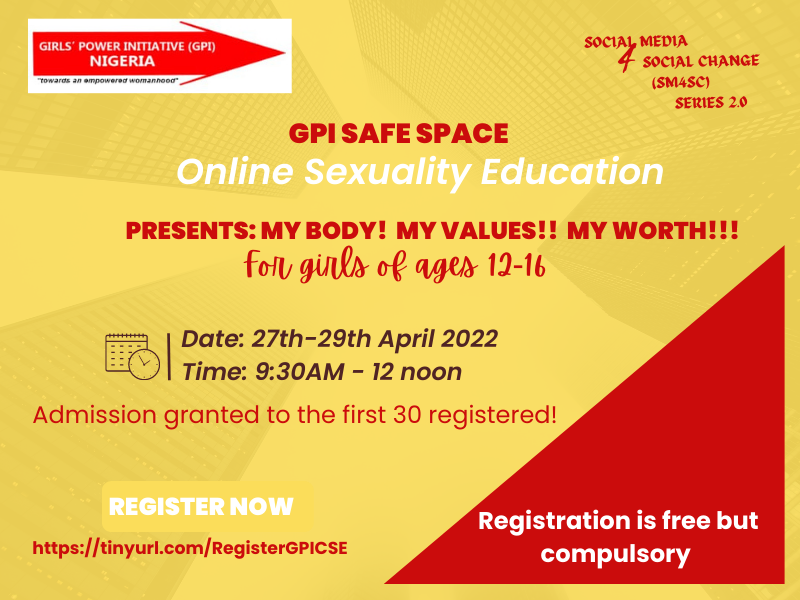 GPI's Safe Space Sexuality Education Goes Virtual
Online Sexuality Education Programme
My Body! My Values! My Worth!
The year 2022 began on a gloomy note owing to the various news on social media about domestic violence against women and girls of diverse descent. Many victims were young women who were cut off their prime by intimate partner violence. This incident gave rise to the topic for the first Online Sexuality Education virtual training by GPI to inform and empower the girls on Body Image, Self-esteem, Communication skills as well as Violence against Women and Girls.
'The programme was an eye-opener. It was educative and insightful.'

– Agnes Onosholema, 14 years
The 3-day program which was held on the 27
th
-29
th
of April 2022 via ZOOM was indeed an educative and participatory one. There were nine topics taught by three facilitators who were very detailed and professional in their delivery. The topics facilitated were: Self-esteem, Self-Assurance, Body Image, Values Clarification, Assertiveness, Communication skills, Dating & Intimacy, Postponing Sexual Activity, and Violence Against Women and Girls. The pre-registration survey showed the interest and acceptance of sexuality education by caregivers. With the window period of one week for registration, 24 adolescent girls from Nigeria's core Northern states and across the South between the ages of 10-16 were registered despite 12 years as the minimum age for participation (this was later reviewed to accommodate them). Of this, 71% had not participated in any GPI activity, and 67% had neither been in online training nor engaged in sexuality education training. In attendance were 9 girls from across different states in Nigeria. The decline in participation was due to the early school resumption in some States. 6 staff of GPI were in attendance to coordinate, provide technical support, and facilitate the programme. It is not an exaggeration that the program was highly impactful because all of the participants gave positive comments about the value-added to them during the program which includes: Having a better understanding of assertiveness in communication; Boosting their self-esteem; Knowing to stand up for women and girls when seen being wrongly treated and Appreciating the body image of others as well as themselves.
…social media influences how we feel about ourselves

– Rosemary, 16
From our post-training evaluation, 89% of the participants mentioned that the length of the program was adequate while 11% said it was inadequate. 89% of participants agreed that the facilitators were responsive to questions and 56% of the participants got notified about the program via Whatsapp while 44% got referred by a friend. Body Image, Self Esteem, and Postponing Early Sexual Activity were sessions mostly liked by participants. The girls raised some suggested topics for other edition which includes: Relationship between the girl child and her mother; Right of a girl child; Negative impact of child marriage; Mood and importance of girl child education; Early Marriage; Career pathways for the Girl child; Teenage Pregnancy, Abortion, and Sexual Harassment. The participants also mentioned that the age range should be increased and the programme should be done during the holiday period to give the opportunity to more girls to participate. This is what some of the girls had to say:
From Onabe Rosemary Dajie –Thank you so much GPI, can't wait for another session.
From Anyanwu Chimamanda Kendra –I appreciate all the facilitators and organizers of the session, keep up the good work. May God bless you
From Ogbikaya Agnes Onosholema –I really enjoyed every second I spent on the programme although I had a little hitch logging in on the first day.